2020 has seen a working from home revolution- albeit from necessity rather than preference- however for many companies the new normal looks like it is here to stay. Whether you are adapting to a working from home environment, or you're a home-office veteran, it is important to remain mindful of maintaining a work space that works with you to help with productivity and focus.
'Tidy house, tidy mind' is a phrase most of us will have heard of, and more than ever as we spend extra time in our home environment we are learning the extent to which our surroundings impact our thought processes, moods and when it comes to working, productivity.
Converting an existing room to become your new home office isn't an option for everyone, yet one of the most important elements of a successful work space is ensuring it is dedicated solely to work. Not only will this help you stay organised, but it will help you transition mentally into 'work mode' to aid productivity, and equally help you leave work behind and switch off at the end of the day. In this blog we cover different ways you can repurpose existing space to create a working environment that works for you!
Use visual barriers to partition a separate work 'zone'. You could use bookshelves (handily doubling up as extra storage!), clothes racks, bookshelves, screens or even position the back of your settee to separate a clear area in an otherwise used room for your desk and workspace.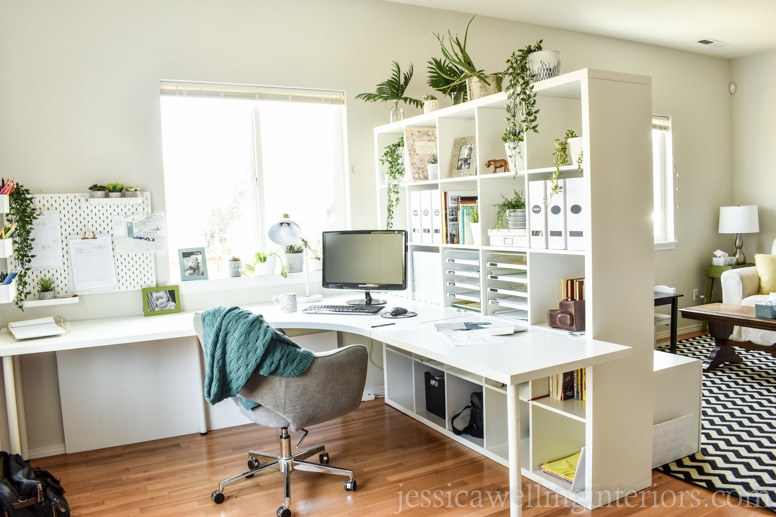 Photo Credit: Jessica Wellington Interiors https://www.pinterest.co.uk/pin/527836018828580608/
2. Find a natural 'zone' in your layout. Perhaps you have an alcove that currently hosts a potted plant and not much else? If this space is wide enough to fit a full or even drop-down desk, this could be your zone.
Photo Credit: http://sitamontgomeryinteriors.com/2017/04/smi-modern-farmhouse-kitchen-dining-nook.html
3. Utilise a cupboard. Hear us out on this one! A deep cupboard space can be opened up to create a neat space for a desk and overhead shelving, plus you can fit a sliding door to shut off the space when it isn't in use.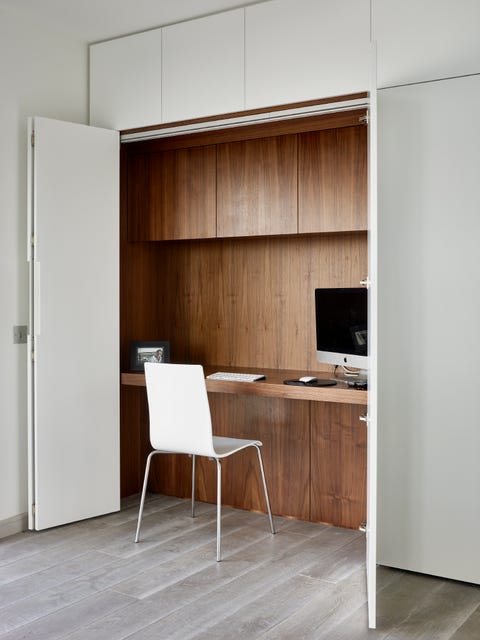 Photo Credit: housebeautiful.com
4. Position your desk against a window. Your 'zone' will be your desk and your outdoor view, rather than the TV or bed behind you.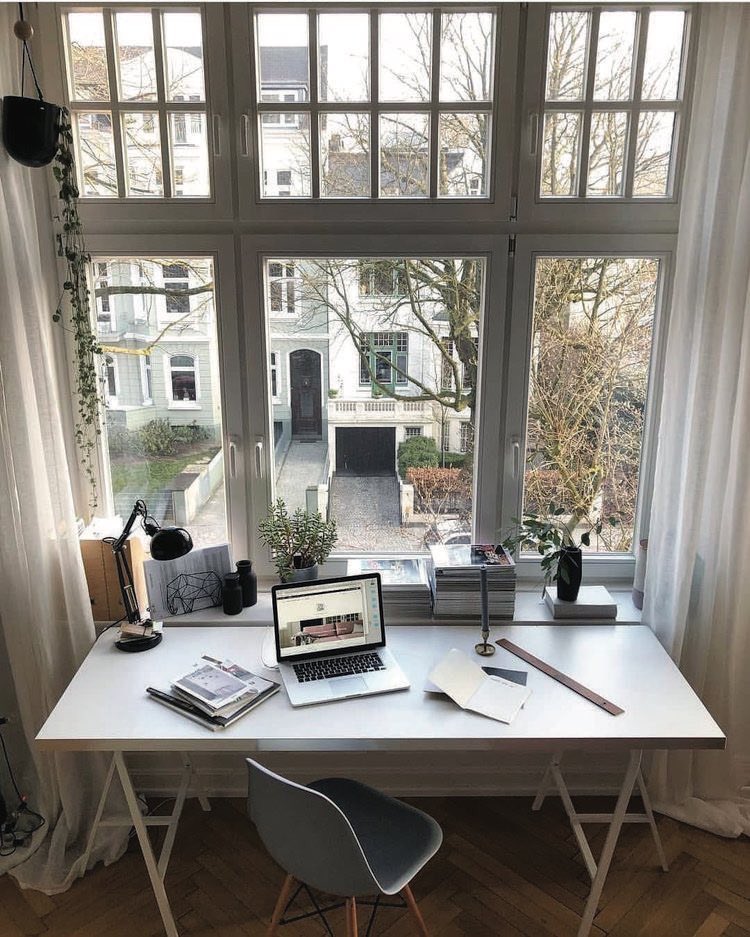 Photo Credit: https://twitter.com/voguevivant/
5. Fold out desks. These can be fitted in any room and handily folded away to restore the original aesthetic of the room. This helps create a clear distinction between the rooms two purposes, and helps keep your work and home life separate.
Photo credit: stylemepretty.com
6. Reconfigure your internal layout. For those that are looking to invest in a long-term solution, having an Architect look at your existing home layout can be a fantastic move. Whilst many people believe that to create new rooms an extension is necessary, sometimes a reconfiguring of your existing floor space can work wonders. See our recent blog in which we recovered unused space from another room to create the new bathroom they were looking for without extending: https://www.house-architects.co.uk/blog/enlisting-an-architect-for-smaller-refurbishment/
If you would like professional advice to help you make the most of your existing space or you're thinking of extending, book a free consultation with your local architect: https://www.house-architects.co.uk/book-a-consultation/
To check out the designs in this blog and more inspiration visit our Pinterest https://www.pinterest.co.uk/TheHouseArchitectsUK/home-office-solutions/